Millennials in Charge: Passing the Torch in the Workforce
As the pendulum of demographics begins to swing towards the next generation of employees, Millennials in the workplace are beginning to change the landscape of organizational structure.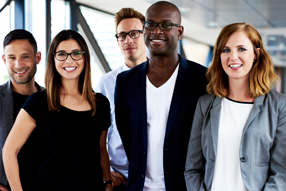 The kids of the technology age are becoming more of a factor in dictating the culture and success of an organization in a variety of ways. In the first quarter of 2015, Millennials surpassed Baby Boomers and Generation X to become the largest generation in the United States workforce.
A study by MTV called "No Collar Workers" focused on Gen Y's perspectives about the workplace and careers, and what often comes to light is how different their views are from that of their parents' generation, the boomers. "This generation is reshaping today's consumer and media markets, and even MTV itself," says Nick Shore, a senior vice president at MTV involved in the "No Collar Workers" study.
As the 53.3 million adults 18 to 34 have become the dominant demographic in the labor force, consider these significant and largely positive factors and the effect they have had on shaping business operations.
Flexibility Is Key
With recent advances in society and technology, Millennials have grown fond to the amenity of flexibility in the workforce. According to recent surveys, 74 percent of Millennials said flexible hours are a central priority. Mobile technology has made it possible for workers to complete assignments, collaborate with peers and receive direction from management while working off-site.
As the most technology friendly generation, Millennials in the workplace have used emerging technologies to disrupt traditional ideas about workspaces and fixed working times. It's also worth noting that a preference for flexible schedules does not mean Millennials are lazy or want to work less. As opposed to the work-life balance craved by Baby Boomers and Gen Xers, 88 percent of Millennials are interested in work-life integration.
Hierarchies Are Out, Creative Freedom is In
By 2025, Millennials will represent 75 percent of the global workforce. At that time, corporate culture as we think of it today will be a distant memory. They're hyper-connected, tech savvy, entrepreneurial, and collaborative. They also favor fast-paced work environments, want quick promotions, and aren't fans of traditional office rules and hierarchies.
Additionally, the majority of Millennials place a greater value on collaboration and mentorship than status and salary as workplace incentives. For executives looking to attract millennial talent, the paradigm should be to engage and create, not command-and-control.
Vineet Nayer, the CEO of HCL Technologies says that millennials "have little interest in hierarchy and are not particularly impressed by the titles and positions within the traditional pyramid structure." According to Shore, "They find hierarchies difficult to understand because they didn't grow up with it."
Millennials Want To Work On Their Own Time
The standard 9-to-5 workday is fading, and the change is at least partially being driven by millennials. Statistics show that 81% of millennials think they should be allowed to make their own hours at work, compared to only 69% of baby boomers.
Whereas more boomers feel the office environment and the traditional workday is the best way to get the job done, millennials prefer a flexible approach, including the right to be remote workers who go into the office only sometimes, or perhaps never. They maintain that as long as the work gets done, the amount of time spent in the office shouldn't matter. In the MTV poll, 70% of millennials also said that they need "me time" on the job, versus 39% of Baby Boomers.
Company Culture, Informal Learning, Leadership, Rotation, Training = Success
In a recent study done by the Association for Talent Development, previously mentioned factors all come into effect when looking to get the most out of the millennial workforce. ATD's study states that while Millennials are technologically savvy, they lack the soft skills that research shows creates effective leaders.
This is in response to half of the respondents admitting that they are often promoted to management positions before they are fully equipped to handle them, most likely due to employers' attempts to retain their young workforce.
ATD suggests that such a phenomenon can be avoided by fulfilling Millennials desire for on-the-job training, as 53 percent of respondents say it's the most effective training and development strategy. But while organizations look to retain their youthful employees with training and development, ATD offers the option to look to implement rotational job programs as a way to build a competitive edge organizationally.
According to the website, only 19 percent of high-performance organizations offer these programs to their staff. And finally, companies may want to consider the type of culture is present if they're looking to attract and retain a steady workforce. Like those before them, they have their own set of demands when it comes to choosing an occupation. So with that, be mindful of those needs and keep a finger on the pulse of your young workforce.
You can read the full results of their study here
So as the landscape of the workforce continues to shift as the torch is passed from one generation to the next, tapping into the millennial purpose can strengthen and jump start companies in this intensely competitive and global environment.
If your purpose is their purpose, they will go beyond the call of duty to deliver excellent products and services for you. If your goal is to fulfill their purpose, you will create a culture that will encourage millennials to stay and attract others.
Does your company have the strength and courage to pursue this path?
« Return to "HR News and Culture"
Go to main navigation